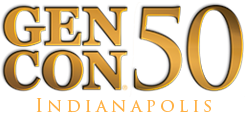 Welcome Gen Con Attendees!
True Dungeon 2017 will be hosted at the 50th Gen Con in Indianapolis, IN from August 17th – August 20th (Thursday-Sunday), 2017. Gen Con Indy is the world's oldest and largest game convention, and True Dungeon is its premier event.
You must obtain a 1-Day or 4-Day convention Badge either by purchasing one or earning one through volunteering. Badges go one sale Jan. 29th, 2017 at www.gencon.com (which you must have to buy tickets).
Event tickets for True Dungeon go on sale Sunday, May 28th at Noon (Eastern) at www.gencon.com
If you are new to True Dungeon, check out THIS VIDEO to learn more!


Fundraiser for Worldbuilders in 2017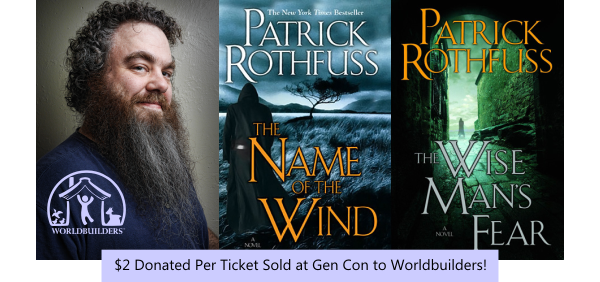 To celebrate Gen Con's 50th year (as well as True Dungeon's 15th) we are working with Worldbuilders -- a great charity founded by best-selling author Patrick Rothfuss to make the world a better place. We are donating $2 per ticket sold at Gen Con 2017 to help Worldbuilders with its mission. Patrick has been gracious enough to allow us to base both of our adventures in his fantasy world of the Kingkiller Chronicle. If you are a fan of Pat's books, you will have some fun in 2017 exploring the Fae and the area surrounding the Waystone Inn. Further, you should enjoy using some of the Treasure Tokens included in your free pack. Some of them are based on items from Pat's world.

True Dungeon Located In Lucas Oil Stadium
We moved from the Indiana Convenion Center in 2016 to the adjacent state-of-the-art exhibit hall inside Lucas Oil Stadium. Easy access to the TD event is gained through a well-lit underground corridor that connects the convention center to LOS. CLICK HERE to see its location.

2017 Event Details

The 2017 event is the exciting second year of a four-year story arc that will take players on an amazing chase through some immersive environments as they seek to stop a vile mind flayer from collecting a set of holy relics known as the Teeth of Cavadar.

True Adventures, Ltd. is proud to offer FOUR completely new two-hour adventures for 2017. More info will be posted in the coming months.
Another Fun Event
True Grind: In this hackfest, players must race a series of deadly combats that will test even the most experienced and well-equipped party. No XP is earned, but 1 Treasure Chip and a Survivor Button is available. You MUST be a Second Level TD player to participate -- and expect to die without a lot of experience, skill and tokens. This is not an event for casual TD players. The cost of this event is $30.
FOUR Levels of Challenge

Due to the response from our players, we make our adventures playable at different challenge levels. Here they are in order of difficulty.
Non-lethal: If all players in the group agree, the party can tell their Coach they want to play their adventure on the "non-lethal" challenge rating. This is designed for people who just want to enjoy the True Dungeon adventure without having to worry about their character dying. Awarded XP for this challenge level is 650 XP
Normal: By default, the party will play their adventure on the Normal challenge level -- characters can die on this difficulty, but a good party can emerge victorious with only basic equipment as long as they work well together and think on their feet. If this challenge is too much (or insufficient) then other levels are available. Awarded XP for this challenge level is 650 + 50/room reached.
Hardcore: If all players in the group agree, the players can tell their Coach they want to play their adventure on the "Hardore" challenge rating. This is for people who have some TD experience and at least 3 bags of tokens. Awarded XP for this challenge level is 1650 + 50/room reached. They get only the Hardcore/Nightmare Completion token for attempting this level.
Nightmare: If all players in the group agree, the players can tell their Coach they want to play their adventure on the "Nightmare" challenge rating. This is for people who have lots of experience, moxie and/or tokens. THIS IS A VERY DIFFICULT EVENT. Awarded XP for this challenge level is 1650 + 50/room reached. They get both the Normal and Hardcore/Nightmare Completion tokens for attempting this level.
Experience Points Earned

Players receive Experience Points (XP) for playing TD adventures and gain various benefits for achieving higher levels. Some TD veterans are now 8th level. The amount of XP earned is based on the challenge rating of the adventure as well as how many rooms your character makes it to alive. (Your character need notsurvive the entire adventure to get max XP, s/he just needs to enter the final room alive.)
Non-lethal = 650 XP
Normal = 650 XP + 50 XP/room
Hardcore= 1650 XP + 50 XP/room
Nightmare = 1650 XP + 50 XP/room

If a player plays the same adventure more than once, they receive the highest XP earned in all runs of that particular adventure. So someone playing an adventure twice, once at the Normal level and once on Nightmare level, will receive only the XP for the Nightmare adventure. (I.e., the XP awards for the same adventure don't stack.) Note that the two versions (puzzle or comabt) of each adventure are considered the same adventure because they are somewhat similar. The highest XP available for Gen Con Indy 2017 is 4,000 XP – if the player makes it to the final room of two different adventures on Hardcore or Nightmare difficulty.
Participation Tokens

As stated earlier, players earn a cool limited edition participation token just for playing a TD adventure. There are FIVE unique tokens available at Gen Con 2017. The two versions of both modules have the same participation token, and the Hardcore/Nightmare version of both modules have their own special participation tokens. True Grind has its own unique limited-edition Participation Token. For the two-hour adventures, anyone playing on the "Non-lethal" setting will receive the Normal participation token, but no Survival button can be earned.
True Dungeon 101

This one-hour seminar, presented by a group of great TD veterans, is highly recommended for new TD players. This seminar will be offered at three different times to better suit your schedule. Search "TD101" at www.gencon.com event listing for more info.