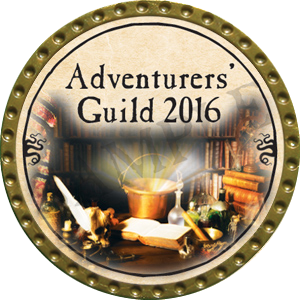 Welcome Adventurers' Guild Member!
Thank you for your great support of True Dungeon. It is very much appreciated, and we have provided you with two member benefits.
Adventurers' Guild Button – This button will allow you to check one bag at our exclusive members-only Bag Check inside the TD event at both Who's Yer Con and Gen Con.
Adventurers' Guild Token – You can turn in your AG token at Gen Con to redeem for either a Treasure Coin or an Uncommon Participation token given out for playing in either 2016 adventure.
Who's Yer Con Info:
All AG members have the ability to purchase two $40 ticket to our two-hour adventure hosted at Who's Yer Con 2016. To do this, please fill out the ONLINE FORM HERE, and then print out the PDF FORM HERE. You must fill out the online form, then the paper form – and then send in the paper form and your AG tokens to TD HQ. Hurry! The deadline to register for Who's Yer Con is March 10th.
In addition to the two-hour adventures, we will also have a TD-hosted seminar at 7pm on Friday – as well as a token transmuting room that will be open all weekend. We will also have a limited number of True Grind slots open, and more information is coming regarding this event. Check back here for more updates.