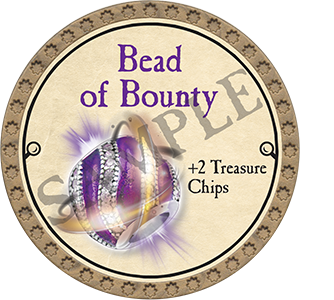 Tokens have become a very popular component of True Dungeon since they were introduced at Gen Con So Cal in 2003. The tokens were added so that players could experience one of the most interesting and fun parts of adventuring -- getting treasure! They started out as "wooden nickel" type chips with simple printing -- and yet they were widely loved by the TD Community.
In 2007 the tokens were upgraded to professionally manufactured metal/plastic chips that have an embossed logo on one side and a full-color image on the other. The tokens are heavy, and with their "gold" color they have the weight and appearance of a gold piece. However, one random token out of every pack of tokens is platinum in color instead of gold. The tokens are VERY durable and water-proof, and a special clear laminate protects the full-color image very well.
The tokens are organized into Common, Uncommon, Rare and Ultra Rare rarity groups. Each standard 10-pack of Treasure Tokens contains:
7 random Common tokens*
2 random Uncommon tokens
1 random Rare token
*1 out of 100 10-packs come with 6 random Common tokens, 2 random Uncommon, 1 random Rare AND 1 random Ultra Rare token!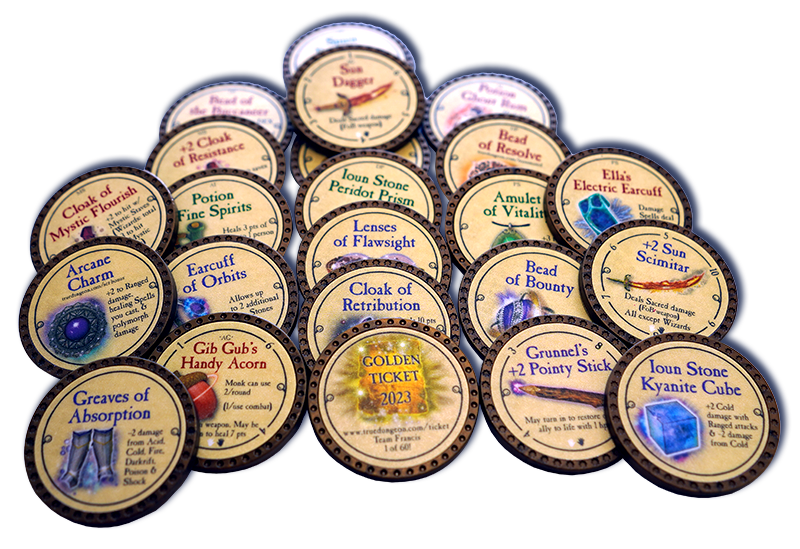 Every player receives a free random 10-pack of Treasure Tokens at the start of the adventure, but players can also purchase tokens online at this website. Some players become collectors, and there is a lot of token trading going on all year. You can purchase tokens NOW at the True Dungeon Store.
We also have a Token Exchange Program where collectors can turn-in unwanted tokens to receive free limited-edition tokens in return.
And a BIG THANKS to the TD Community who have supported us these past 20 years! Your purchases of Treasure Tokens has made a huge difference.